A yacht sails quietly with the wind. Close your eyes and enjoy the sound of the waves and the salt tang of the sea. Soaking up the sun warms your heart as your cares slowly melt away. Taking in the blues of the sky and of the sea, you are filled with a refreshing feeling.
Here in the sea of Kujukushima. From Sasebo Bay to the Hirado Strait 25 kilometers to the north, there are 208 small to large islands known as Kujukushima. Kujuku(meaning '99' in Japanese) is often used this way simply to express a large number. Intricate ria coastlines and scattered islands create beautiful natural scenery, most of which are designated as part of Saikai National Park. It is also said that Kujukushima has the highest island density in Japan. Kujukushima was certified as an official member of the international NGO, "World's Most Beautiful Bays Club" in April, 2018. The "99TRITON" makes it possible for you to enjoy the magnificent nature of Kujukushima to the fullest.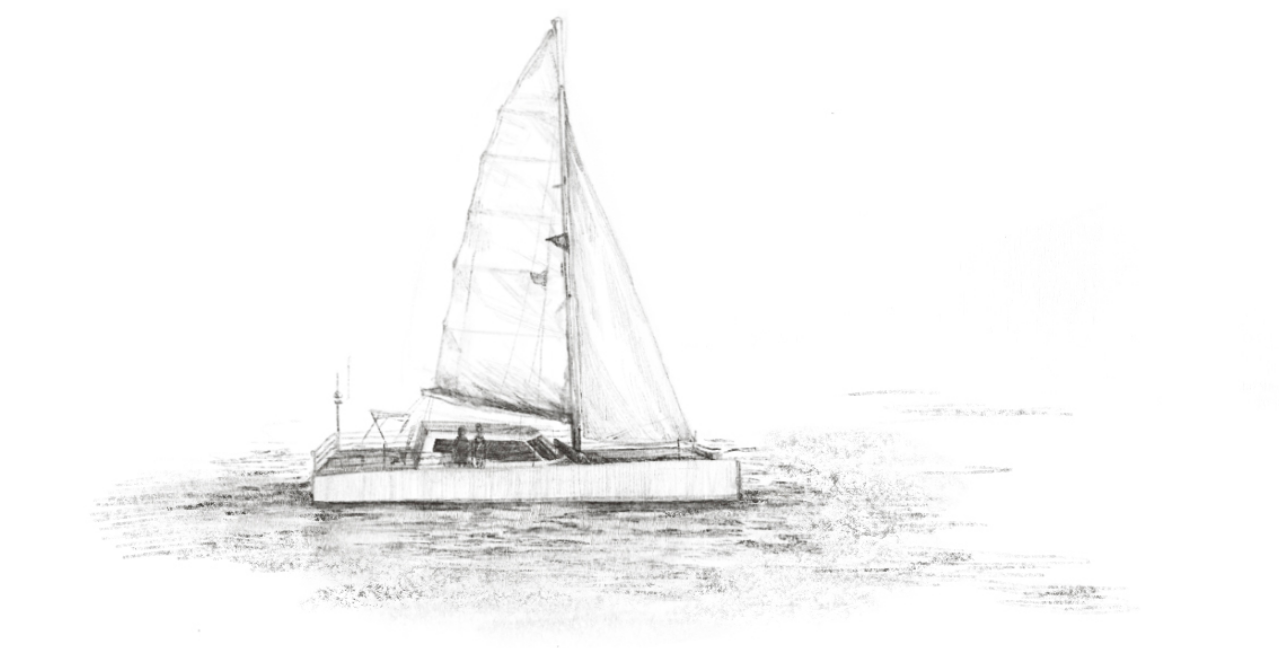 Detailed information

Greetings! I am Toshio Kashiwagi, a chef specializing in Japanese cuisine. It feels very refreshing to make sushi on the yacht. For an ocean lover like myself, it is a great pleasure to cook while enjoying the ocean view. I can tell whether customers are enjoying their food by looking at their eyes. I can feel the quality of the fish with just one touch. The sushi rice as well. Through each of the five senses, I enjoy conversing with customers while making sushi. I want my customers to savor Sasebo's fresh fishes in their peak season. My recommended fish? There are almost too many varieties to choose from. Please come and check out the recommended fish of the day.

Greetings! I am Keiichi Masugawa, in charge of Western cuisine. I want to enjoy the fusion between Nagasaki and Italy. That's why I'm particular about choosing ingredients from Nagasaki and Sasebo. For example, I cook with beef cheeks and ground beef from Nagasaki. Our roast pork is sourced from Saikai Pork, local to Sasebo. And our tomatoes are Yunoki Tomatoes from right here in Sasebo. Depending on the time of the year, selected ingredients may come from different places, but I want people to appreciate Sasebo's flavors. The freshest of vegetables taste sweet. Stew is a traditional Italian dish. After cooking for such a long time, the ingredients become so soft they can be cut simply with chopsticks. Please take time to savor the unique flavors while enjoying the scenery.
Detailed information

Greetings! I am Tsukasa Kuroiwa, a patissier on this yacht. I make desserts onboard using mainly ingredients produced locally, in hope that you will learn more about "Sasebo" and have a great time here. Using local products such as Sechibaru tea, soy milk, Saikai tangerines, and pearl powder from Nagasaki, I create desserts specifically for 99 TRITON. Please enjoy the unique cruising experience, where you can taste, see and learn about "Sasebo" while feeling the breeze of Kujukushima.
Detailed information

Greetings! I am Lui Wan Ting, in charge of tea ceremony.
A tea ceremony at sea is an expereience many people may never have the chance to enjoy. I'd like to share this precious opportunity with our passengers. I came to Nagasaki from Hong Kong and learned Japanese tea ceremony while living here. I practice Chinshin-ryu, a style of samurai tea ceremony developed by Shigenobu Matsuura of the Hizen Hirado Domain. As a fan of Japanese culture, I would like to share the charming qualities of Japan to those who love this country. The process of making tea, O-temae, has a few simple steps: purifying the utensils, making the tea, and putting away the utensils. I'm sure that you will enjoy tea ceremony even if you've never done it before. I am looking forward to making tea with you.

This plan is an optional service. It is not included in the regular tour service or tours including meals.